Sunday 12/17/17 @4PM
Opening Reception October 8,2017
Oct.9- November 17.2017
********************************************************************************
Film Screening  & Discussion
Thursday, March 16th   7:00PM
" SELMA"
Join the National Black Doll Museum & The  Mansfield Democrats Affirmitive  Action Committee  in the screning and lively discussion of a historic moment in history.
*************************************************************************************
The Mic is Open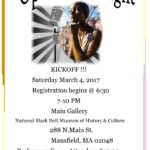 ********************************************************************************
Past Events
4th Annual MLK, Jr. Creative Art Celebration & Day of Service art "making", and "random acts of kindness
January 2018
"Celebrating the Obama Presidency", a multi-media showcase honoring the nation's first African-American president of the United States, his life story, his political achievements, as well as the First Family  
January 2017
   All Stories Theater presents: Guest From Hartford  Play & Discussion on Antislavery Riot of Mansfield 1836          
October 10, 2016
Dolls, Dolls, Dolls :School Vacation Week
February 2016
The Ebony Village  Opening Reception
Saturday & Sunday  12-7PM 
December 2015
2nd Annual Community Kwanzaa    Saturday
 Dec. 19th,2015
3rd Annual Dr. Martin Luther King Jr. Art Competition & Reception 
January 18,2016
 The Art of Dining 
October 2015  
 Running North:UGRR 
Mar-Sept. 2015
   "A Century Of Black Life"
 February 2015 
 Workshop & Presentation : Tracing Your Roots Genealogy
Open Reception "Experience"  The Underground Railroad
 Reception Dr. Martin Luther King Jr.  Creative Expression Contest  Award Recipients            
  January 19 2015
150 Doll Give Away 

December

,2

014  
 Community Kwanzaa  

Dec. 21, 2014
  Reception
 

Color of Courage

Nov. 11, 2014  

 
    Ebony Village/ Winter Tea
November 21,2014
  Holiday Bazaar & All White Affair  Auction   "

November

22, 2014
Tea Time  Sunday August 24th 2014  
Shop For A Cause!! Macy's Attleboro, Ma Saturday,        August 23, 2014
Opening  Harmonious Traditions  Saturday  June  7, 2014    
World Doll Day  Giveaway Dads & Dolls    June 14, 2014
 

Dolls, Drummers &

Dessert   August 2014  
Doll E. Tea: 
A celebration of sisterhood (  Nana, Mom, daughters, aunts,nieces, girlfriends  join us for a fun filled afternoon  tea, crumpets , doll e , fashion show, door prizes and more…….. Tickets  $10.00
Monthly  Events: TBD    Call for schedule.
Salsa Beginners  Lessons
Doll E Tea        Third Sunday of Month
Movie Screenings Friday Evening
Doll workshops/Fashion Makeovers     Saturdays
Book signings: Meet both New and well known  authors at our book signings events.Join our lively discussion group that follows
Films: Enjoy film screenings and watch favorite films about African American history & culture . Create or participate in a fun filled activity inspired by the film.
Lectures/Workshops: Attend lectures and workshops presented by  esteemed and down to earth  speakers.
Musical Performances: Enjoy musical performances held at the museum as you  view the ever changing exhibits.
Youth Programs: Our young people are engaged with the multiple events & programs co-ordinated  to spark their imagination yet,geared towards history.
There are no upcoming events to display at this time.