Events/Calendar
 Sunday 12/17/17 @4PM
Opening Reception October 8,2017
Oct.9- November 17.2017
********************************************************************************
Film Screening  & Discussion
Thursday, March 16th   7:00PM
" SELMA"
Join the National Black Doll Museum & The  Mansfield Democrats Affirmitive  Action Committee  in the screning and lively discussion of a historic moment in history.
*************************************************************************************
The Mic is Open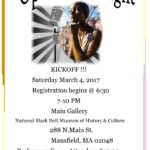 ********************************************************************************
Past Events
4th Annual MLK, Jr. Creative Art Celebration & Day of Service art "making", and "random acts of kindness
"Celebrating the Obama Presidency", a multi-media showcase honoring the nation's first African-American president of the United States, his life story, his political achievements, as well as the First Family
October 10, 2016   All Stories Theater presents: Guest From Hartford
Play & Discussion on AntiSlavery Riot , Mansfield 1836 
February 2016 Dolls, Dolls, Dolls :School Vacation
Week
The Ebony Village  Opening Reception
Saturday & Sunday  12-7PM
2nd Annual Community Kwanzaa     Saturday  Dec.19th,2015
3rd Annual Dr. Martin Luther King Jr. Art Competition & Reception
January 18,2016
 October 2015  The Art of Dining
March-Sept2015  Running North
 February 2015    "A Century Of Black Life"
February " African American Footprints In Transportation"
Workshop & Presentation : Tracing Your Roots Genealogy
Film & Discussion   Tracing The Trade  with Peter DeWolfe
Cooking For A Cause  W / Master Chef Ronnie Seaton
Open Reception "Experience"  The Underground Railroad
Performance    Musical  Nzinga's Daughters:  Songs of the Underground Railroad
January 5, 2015   Exhibit Creative Expressions
Jan.19, 2015    Reception Dr. Martin Luther King Jr.  Creative Expression Contest  Award Recipients
Dec. 4,8, & 11 ,2014        150 Dolls Given Away
Dec. 21, 2014            Community Kwanzaa Presentation
Nov. 11, 2014     Reception  Color of Courage
November 21,2014    Ebony Village  Reception & Winter Tea
November 22, 2014   Holiday Bazaar &  "All White Affair Auction"
History with Tea
Sunday August 24th 2014   Tea Time: 3-5PM
Shop For A Cause!! Macy's Attleboro, Ma Saturday, August 23, 2014
Opening Reception  Harmonious Traditions  Saturday  June  7, 2014  3-5   World Doll Day   June 14, 2014
Doll Tea, Auction  & Giveaway  
D

ads & Dolls / Doll Making & Refreshments  
Dolls, Drummers

$

Dessert 2014  1-5pm
Signature Events
Doll E. Tea: 
A celebration of sisterhood (  Nana, Mom, daughters, aunts,nieces, girlfriends  join us for a fun filled afternoon  tea, crumpets , doll e , fashion show, door prizes and more…….. Tickets  $10.00
Black Doll Festival  
Sept. 27-29 2013
Monthly  Events: TBD    Call for schedule.
Salsa Beginners  Lessons
Doll E Tea        Third Sunday of Month
Movie Screenings Friday Evening
Doll workshops/Fashion Makeovers     Saturdays
Book signings: Meet both New and well known  authors at our book signings events.Join our lively discussion group that follows
Films: Enjoy film screenings and watch favorite films about African American history & culture . Create or participate in a fun filled activity inspired by the film.
Lectures/Workshops: Attend lectures and workshops presented by  esteemed and down to earth  speakers.
Musical Performances: Enjoy musical performances held at the museum as you  view the ever changing exhibits.
Youth Programs: Our young people are engaged with the multiple events & programs co-ordinated  to spark their imagination yet,geared towards history.