ABOLITION DAY 
The 2018 commemoration of Abolition Day will be held  Saturday, October 6, from 11-5PM  on the South Commons in Mansfield at 6 Park Row.
Abolition Day commemorates the choice residents made between  " rights and wrongs" of freedom vs. slavery.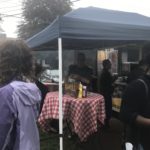 A free, community building experience  that enlightened hundreds last year with its action packed programming of ethnic foods, historical re-enactment , speakers, and music  provided by Nzinga's Daughters.
This year the second festival  is the place to be on the first Saturday of October as the community comes together in a bond forged in the commitment of celebrating our diversity.
We look forward to seeing you for Mansfield's free outdoor celebration.
We are accepting applications for vendors and ,non profits for the 2018 event.