Become a Sponsor of the 2018 Abolition Day  Celebration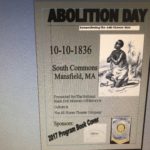 By sponsoring the festival, you are sponsoring our community.
Plans are under way for the 2nd Celebration of Abolition Day  hosted  by the National Black Doll Museum of History & Culture and the ALL Stories Theater Company . . The celebration will take place in Mansfield, Ma  on Saturday  October 6th, 2018. The  festival is on track for one of the regions most  inclusive  successful in our state.
Over the  past year, it has allowed our community   to work on various   community projects, the most significant being   The Road to Diversity and Understanding a series of films, lectures, discussions  held at the museum and in venues of surrounding communities.  The National Black Doll Museum  is open to all and  provides a safe , non threatening and inviting place  to hold difficult conversations.  Every day  families  visit and enjoy our  space
Sponsorships support other projects like our anti-bullying workshops,  B.O.B   (books over  boys),  community exhibits @ local libraries, shelters,  holiday doll give-away and Dream  prom assistance  for graduating seniors."
When a incident  occurs in our region, the museum  uses its resources to help. We are so fortunate to have a community of volunteers and supporters, such as our sponsors, that helped  make this  celebration  successful last year.  We would appreciate your continued participation and look forward to seeing you on ABOLITION DAY.
The ABOLITION DAY Committee  is proud to offer sponsorships as well as single ads in our  *8×11 1/2 " program book. The program book contains i an overview of activities, speakers and  performances. The guide as a resource allows attendees a chance to  engage with local businesses  while participating in the Harry B, Chase jr. History
We offer various levels of sponsorships from $150 to $2000 – each with it's own perks and benefits. Download the  benefits guide below to determine which level is best for you.