CALENDAR
The Museum hosts a robust series of discussions, readings, screenings, and workshops that highlight our exciting exhibitions and collections for a diverse community of learners. Visit often for updates.
May
4
Sat
Doll Appraisal & Sale

@ National Black Doll Museum
May 4 @ 10:00 am – 4:00 pm

Appr

aisal & Sale Day
Is there doll that was given to you as a family heirloom or  one  that you want  more information about?  Executive Director of the National Black Doll Museum Debra Britt and doll  appraiser Joyce Stamps  will be at the  Museum  to verbally appraise your hidden treasures.
On Saturday morning  the public is invited to participate in a doll sale and   appraisal..  Each person  can  meet individually with an appraiser for a  10 minute verbal appraisal session  and possible consignment of their items. While participants wait there will be opportunity  to walk through the Museum and purchase dolls from doll artist and vendors. 
Each 10 minute session is $ 20.00 and limited to one item  additional items require an additional fee & session .
All proceeds support the Museum's education programming fund
May
5
Sun
What's it Worth ? Doll E Tea

@ National Black Doll Museum
May 5 @ 12:00 pm – 4:30 pm
What's it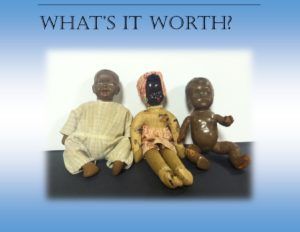 Worth?
$30 per person or $50 per couple
Admission includes the appraisal of one item per person or per couple
Pre-registration required online
Space is limited
On Sunday afternoon guests can enjoy a "What's it Worth?" event starting with a tea reception from 12:30-2:00PM. Browse through the National Black Doll Museum with curators and expert appraisers Deb Britt and Joyce Stamps and learn about a number of pieces in the museum's collection. From 2:00-4:00 the group will gather in the main gallery to enjoy a presentation where the appraisers will provide information and estimated values on the objects that guests have brought to the event.   Opportunity to purchase  selected one of a kind must have collector pieces.
Aug
23
Fri
Take your Sister 2 Lunch

@ TBD
Aug 23 @ 12:00 pm – 5:30 pm

      "Our Grandmothers, Our Mothers, Our Selves"
10  YEAR CELEBRATION
Friday  AUGUST 23rd & Saturday  AUGUST 24th , 2019
Mission Statement: To Encourage Integrity, Self-Nurturing, Self-Worth and the Empowerment of Social Change for Women.