Welcome to the National Black Doll Museum of History and Culture
We are both excited and honored that you have decided to take this journey. The museum was created to tell the story of African American through the eyes of a doll collector. You begin this journey walking in our footsteps.
1st Leg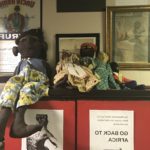 The Gallery of Self-Discovery  features three  distinct exhibits nents "The Ugly Truth". Era of Pyramids & Dark Treasures.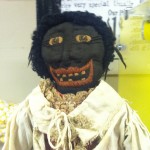 "The Ugly Truth," is  an enclosed  exhibit  and begins the journey … once opened it  facilitates a dialogue on the impact of negative images on one's  self-esteem. It reminds us of the inhumane treatment of humans by humans.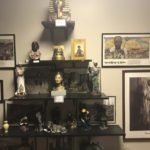 Era  of Pyramids:   Go Back to Africa was supposed to be one of the most hurtful and derogatory statements hurdle at an African American child, leaving me to question "Who Am I". The key to search for the answer begins with the understanding that we are greater than the sum of our mothers and fathers.That we came from greatness… denied, yet somehow I knew existed.  Who then were the Great Kings and Queens whose blood flowed through my veins?
Dark Treasures from the five regions of Africa adorn this exhibit.  African and African Inspired dolls, figurines and mask are represented from a variety of tribes.  Your eyes will travel through Ghana, Kenya, Benin and more. Highlighted in this exhibit is the Dogon Dancer standing nearly six feet tall was created by artist Laurel Stroman.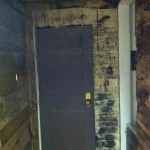 2nd   Leg:  The Middle Passage historically this was the route used to transport Africans from Africa to the Americas. Somehow there is this belief that Africans were an uncivilized people taken into slavery. That Africans lived in bushes that there was no ordered society. Our passage visually provides you with an experience from the transformation of Africans to African Americans.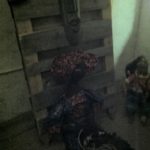 Enkaj: An African Hut structural framework is formed of timber poles fixed directly into the ground and interwoven with a lattice of smaller branches,which is then plastered with a mix of mud , sticks, grass, cow dung, humanurine, and ash. The cow dung ensures that the roof is water-proof.  Our replica was created using joint compound, ash  and sand, thickly applied and sanded.The Enkaj is small, measuring about 3×5 m and standing only 1.5 m high. Within this space, the family cooks, eats, sleeps, socializes, and stores food, fuel, and other household possessions.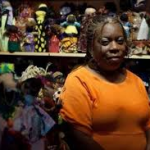 Slave Girth:  An estimated 15 million Africans  were transported to the Americas between 1540 and 1850. To maximize their profits slave merchants carried as many slaves as was physically possible on their ships. The first American ship to carry enslaved Africans was the seventy-nine-foot long Desire, sailing out of Salem, Massachusetts, in 1638 with 250 .  However, the Manuela (Emanuela) reportedly carried on average 800 slaves per trip. The recreated girth houses approx.720 dolls in a comparable space.
Historical Room: Ordinary People/Extraordinary accomplishments based on the African philosophy of Ubuntu "without one there is no other, the dolls are exhibited in a shoulder to shoulder pyramid to further demonstrate this philosophy.  Dolls highlighted are of people who were and are motivated by the journey rather than the destination. People who defy the odds, overcome challenges, and are determined to make a difference .President Barack Obama is featured as the most notable African American to date in the 21st century.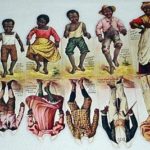 3rd Leg:  Boom Black Owned & Operated /The Alphabet Gallery   introduces you to the significance of black doll collecting from A-Z.   The centerpiece of the mini gallery is three prominent displays within one theme: The ABC'S, BOOM and the Playful Paper Trail. "Black owned and operated Manufacturers", (BOOM) features the history behind the companies, of Shindana, Integrity and the Negro Doll Company to name a few.  The Playful Paper Trail   features an array of days gone by with both original and reproductions of an unkind cut. From 1885 original Jointed Lithographed to First Lady Michelle Obama in 2008.The ABC's is designed to inform and challenge you from advertising, to Zulu with historical facts in between.
4th Leg:  The Record Makers Gallery is one of the most popular galleries housed within the museum. . It is an introduction to the African American experience through musical contributions. Dolls featuring icons Josephine Baker, Louis Armstrong, Tupac, Biggie and Bob Marley can be seen, Vinyl records of all genres, books and magazines are also available to help cultivate your experience.
5th Leg: Record Breakers Sports Gallery: highlights and acknowledge those who dared to dream and broke down doors, racial barriers, and records in the Arena of sports. The exhibit are showcased in dioramas and includes artifacts and action figures in the field of baseball with Hank Aaron and Jackie Robinson, Basketball, Football, Wrestling, Boxing, Tennis, Golf, Runners and cyclists and their journey in a constant quest to reinvent current moments that catapults their thoughts to create the best outcome.
6th Leg   The Main Gallery is our rotating gallery here the exhibit continuosly change and features the art work of local and national contemporary  artists. In addition there are several areas that houses miniatures, dolls of the world,the first people of Americas and quilts.
7th Leg   the Fashion Gallery, "Yes, she does come in Black" is the answer to the most frequent question visitors ask when viewing this exhibit. Though exclusivity made it difficult for many African Americans to break into the fashion industry those that paved the way such as Byron Lars, Jason Wu, Kitty Perkins-Black took their ideas from the runway to the toy shelf.From Barbie to Candy and Dasia this exhibit showcases fashion dolls.It provides an opportunity for visitors to view unleashed creativity and examine the impact of positive self-image.
8th Leg   The Gallery of the Universe:  two exhibits are featured in this area black stars is a tribute to African Americans in the entertainment industry specifically films. Highlighted are several firsts the first African American Woman to receive an Oscar, first African American to have their own TV show ….Land on the Moon, in addition this area is our opportunity to chart the path of those men and women whose groundbreaking dreams took flight as Aviators extraordinaire.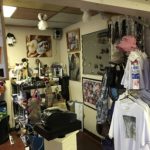 Final Stop – Needful Things Gift Shop
Keep your journey of the Museum memorable! Some of the items from the galleries have been reproduced, many are handcrafted from local artist and  all have been included to enhance your experience.