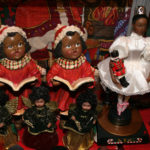 " Special Santa Collection Video" New England Cable News
Who
The National Black Doll Museum (https://nbdmhc.org/),, conveniently located  at 288 N. Main Street in nearby Mansfield, MA (free parking)   is  a national treasure and the only museum of its kind,  a nonprofit formed on the collection of three sisters: Debra Britt, Felicia Walker, and Tamara Mattison.
What
Ebony Village, a celebration of the Christmas holidays through the eyes of Black culture. )  The holiday collection of  250 black Santa's (and Mrs. Santa's) of all sizes,125 tree toppers, Christmas figurines, and ten trees boasting 1,000 African and/or Black-oriented ornaments (out of a total collection of 2,500). The Santa's include "motionettes", musical, sport, hip hop, and light up figures, among others.
When
Saturdays and Sundays from 12-5 pm through January 4, 2017
Visitors will enjoy hot cocoa, cookies and ornament-making workshops
On Saturday December 17, the Museum will host an early celebration of Kwanzaa.
The celebration includes; Candlelight Ceremony, Performances, and interactive workshops, food from the soul will also be available.
Why
The Ebony Village has been produced for more than 10 years, according to Debra Britt, ever since her nephew, then age 5, said "I want to be white" so he could celebrate Christmas like all the other kids. It matched the experience of Mrs. Britt and her family who regularly visited – and enjoyed — Jordan Marsh's annual Enchanted Village. "But we never saw our faces among the figures."
With the help of patience of family members, they began a collection of Black holiday memorabilia and introduced them at 11 libraries in southeastern Massachusetts – free of charge and on their own time – and doubled that number in the second year by public demand.
In subsequent years, the exhibit, now requiring two trucks for transport, appeared in Upham's Corner and Codman Square in Boston and Brockton City Hall before the Museum opened for the first time in Mansfield in 2012.